Here we are again! The tumultuous weekend of award shows and full season concluded last night with the Emmys. I do love television, so I do love the Emmys. But opposed to last year, when the Emmys seemed to be a full show dedicated to those who had passed and became very depressing, this Emmys brought the funny back. From the first minute of Seth Meyer's opening monologue all the way to Bryan Cranston's acceptance speech, the show definitely had more ups and downs. So let's discuss some of my favorite moments of this year's Emmys.
The moment Seth Meyers started his opening monologue, the jokes were raining down. He also hit every oddity and got rid of any elephant in the room about this telecast in the first three jokes of his monologue. See:
"(1) This year, we're doing the Emmys on a Monday night in August, which, if I understand television, means the Emmys are about to get canceled. (2) We're doing this show on Monday in part because MTV aired the Video Awards last night. That's right, MTV still has an awards show for music videos, even though they no longer show music videos. (3) That's like network TV holding an awards show and giving all the trophies to cable and Netflix. That would be crazy"
After his monologue, Seth continued his bit by introducing his good friend Amy Poehler as Beyoncé. I can't even lie, for a second my heart jumped and I thought she had actually stayed in town to bless the Emmys with her presence. But having Amy walk up like her was just as good.
Some other bits that really had me laughing was when Seth conducted a Q&A with the audience. What we heard were some of the funniest and clueless questions from Jon Hamm (Mad Men) not being aware the show was live to Melissa McCarthy (Mike & Molly) asking if her car would get towed during the ceremony and then Julianna Margulies (The Good Wife) wondering since Maggie Smith was not at the ceremony (like every other year), if Smith wins, can she have the award? The best was when straight-faced Andre Braugher (Brooklyn Nine-Nine) asked about using the bathroom, but he needed the bathroom key. Josh Charles (The Good Wife) emerged with the key which was attached to its own Emmy statuette, mirroring either a lack of trust in the industry or going to the bathroom at the Emmys is like going to the bathroom at a drug store.
We got more of some vintage Weekend Update back-and-forth lines between Amy and Seth to introduce bromance Matthew McConaughey and Woody Harrelson (True Detective), but his best collaboration came with my favorite Billy on the Street's Bill Eichner. If you have never seen his show, you should stop reading this and youtube it first, then come back and continue. Billy basically runs the street of New York City, sometimes with a celebrity, shouting questions and quizzing complete strangers. In a pre-taped clip, Seth joined Billy running up to unaware people with questions about the Emmys. My personal favorite part was of course when Billy ran down the street shouting "THE GOOD WIFE WAS SNUBBED". Thank you Billy. Without ruining any of the jokes, please watch the whole video.
There was the force of Bryan Cranston and Julia Louis-Dreyfus. As they presented the award for Outstanding Lead Actor in a Comedy, JDL reminisced about her time on Seinfeld and a particular kiss with a guest star. Bryan interjected that guest was in fact him. But not caring to remember who it was, JDL continued with the presentation. What was to come next was the craziest and greatest thing. For her third year in a row, Julia's name was announced for Outstanding Lead Actress in a Comedy, and as she made her way to the stage, Bryan got up from his seat, grabbed Julia, and made her remember that was in fact him on Seinfeld.
Jimmy Kimmel teased Matthew McConaughey about just winning the Oscar for Best Actor and now being up for Lead Actor in a Drama.
"You just won an Oscar six months ago. No offense, but how many of those speeches of yours are we supposed to sit through? Alright alright alright already. Should we give you the BET award for best male hip-hop artist while we're at it?"
Weird Al took some show's theme songs that say nothing in them and added his own lyrics to describe the show. And Ricky Gervais came out again with his ode to losing.
There were some weird exchanges like the failed joke of Allison Janney and Octavia Spencer on stage together to introduce the sequel to "The Help". No. Then after introducing the President of the Academy, Sofia Vergara was told to stand on a rotating podium as the President made his annual speech. This lasted for the whole two minutes, and I could only imagine the cringing of women in the audience, we've traveled so far, yet can still be considered a good joke. Lastly, Gwen Stefani became the new John Travolta when she announced The COL-BURT Report as the winner of Outstanding Variety Program. Jimmy Fallon played into it as he accepted the award, saying "She said it wrong, so it could be a mistake".
Oh's and What?'s rang when no one won from The Normal Heart in the category of Supporting Actor in a Mini-Series, Movie. Actually out of the six nominees, two were not from the cast of the HBO movie, so it was shocking when one of those two did take home the trophy. However, The Normal Heart did take the overall award of Outstanding Mini-Series, Movie bringing the audience to a standing ovation as playwright and AIDS activist Larry Kramer took the stage with the team.
American Horror Story: Coven came out strong winning both Supporting Actress in a Mini-Series for Kathy Bates, and Lead Actress in a Mini-Series for Jessica Lange. Angela Bassett, Sarah Paulson, and Frances Conroy were also nominated. I'm so happy they're all returning for the next season!
One of the most heart-touching moments of the night was the In Memoriam tribute accompanied with live song from Sara Bareilles. It was nothing short of beautiful. The screen flashed many photos and clips of the great ones we had lost over the last year, with so many familiar faces. Then Billy Crystal appeared on stage to give a special tribute to Robin Williams. Filled with memories and stories, we were given a peak into the lasting friendship of him and Robin. The tribute ended with clips of Robin Williams doing some of his most classic impressions, and as he was shown walking off a stage, the most respectful moment of silence was held.
For its fifth consecutive year, Modern Family was awarded Outstanding Comedy, a disappointment for some, like me.
And Breaking Bad was awarded Outstanding Drama for its last season.
Julianna Margulies took home Outstanding Lead Actress in a Drama. THANK GOD. Although, I am always pulling for Kerry Washington and the Emmys definitely messed up last year for not giving her the Emmy, by season comparison, The Good Wife and Alicia Florrick deserved something. In her acceptance speech, Julianna stood up for broadcast series and the work they put in for 22 episodes, a small stab at the takeover of cable series with only 13 episodes. I'll say it again, The Good Wife put on the best 22-episode season I have ever seen, and it's a shame the Academy did not recognize it.
It's kind of like the continuous lack of awards for diverse nominees. Although this year we saw more Black nominees than the past 37 years with 11, only 2 were awarded for Guest Actor in a Drama to Joe Morton (Scandal) and Guest Actress in a Comedy to Uzo Aduba (Orange is the New Black) at the Creative Primetime Emmys. It is great to see so many nominated, but there are still more strides to be taken to reflect the current state of television. Julianna exclaimed in her speech "What a wonderful time for women on television", and it is. That is why their categories are so strong and competitive. Like for women though, there have been some amazing roles with diversity, so I do challenge the Emmys in these years coming to expand on this 11 nominations and 2 winners of people of color. Maybe it is my optimism, but I can see it happening in television sooner than film.
With all that said, these Emmys were a great way to conclude this awards season which has been filled with just about everything. I'm content with this season ending because that means it's getting closer to fall season with series premieres and season premieres of all sorts. YES!
Special Mentions
Lizzy Caplan – Best Dressed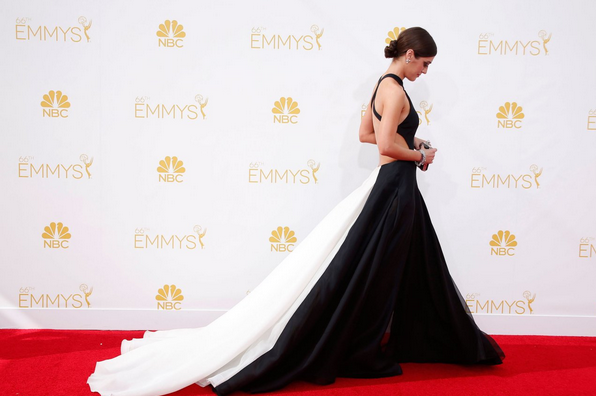 Although it was on a Monday, did anyone else watch it? What did you think?
---
For more highlights, acceptance speeches, and photos from the show you can check out 
nbc.com