Lopsided may be an understatement. Bottom-heavy? Maybe. Uneven? For sure. The 87th Annual Academy Awards had really started its "uneven" track when nominations were announced earlier this year in January. Only nominating the Civil Rights biopic Selma for Best Song and Best Picture, the list of nominees was color-less in the acting categories and very male-driven in technical categories of directing, cinematography, and screenwriting. 'Twas going to be a very bumpy show. Yet, we all knew this going in, so besides the fact that The Academy was going to make up for this drought of color with a list of presenters like Kerry Washington, Oscar-nominated actors: Viola Davis, Terrence Howard, and Oscar winner Octavia Spencer, I still expected a good show like its past years. What we got was a very slow-tempo, pun-driven, dry laughing three quarters of a show and then all of a sudden a powerful, emotional, amazing last quarter of the show. Really, it sounds like I just watched a NBA Playoff Game. But it wasn't, it was The Academy Awards: a lopsided Oscars.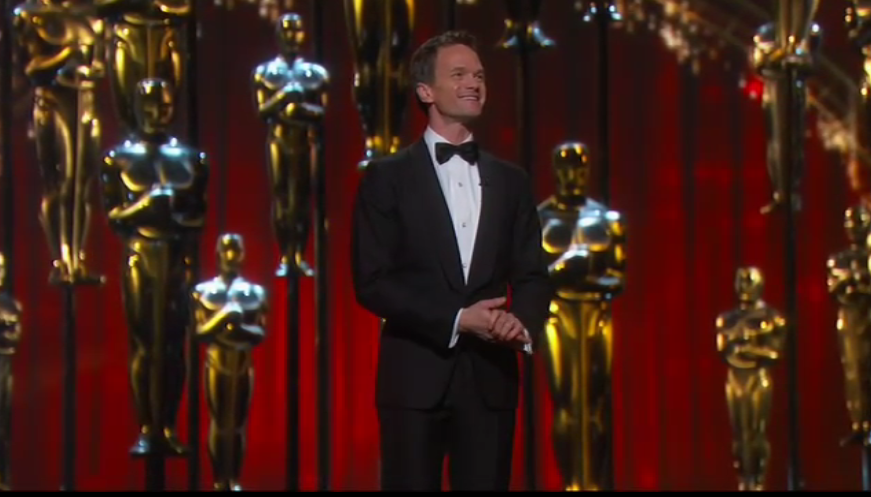 Let's start with Neil Patrick Harris aka NPH. Ohhhhh NPH. I adore him, I really do. When it comes to hosting, it really is his thing. He has amazingly hosted the Emmy Awards twice and the Tony Awards thrice. NPH has delivered hilarious jokes, mastered standing ovation-worth musical numbers, and even included audience members with rapping recaps and pun-driven moments. But boy, was the Oscars just a little more rough for him. It could be that right off the top, NPH was not holding back on the Academy's inner conflict:
"Tonight we honor Hollywood's best and whitest — sorry, brightest". 
Too good. Following that brilliant opening line, Harris went into one of his famous musical numbers filled with "moving pictures" as he inserted himself into some classic film scenes.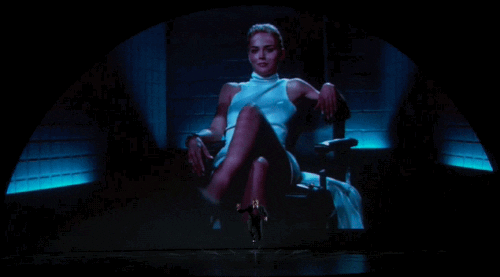 Harris's song was more sincere than anything, not many jokes (like the above), but more of an appreciation for film. He had a couple of special guests: Anna Kendrick in her princess character from Into the Woods and a grumpy Jack Black who was voicing/singing his humorous concerns with the industry. Of course it ended with dancers, chorus, and everything you would expect for a musical number. Very reminiscent of Hugh Jackman's opening for the 81st Academy Awards, but definitely more technically enhanced. [Sidenote: they're always in competition] If you were a film lover, you probably liked the technical element more than musical element and if you were a theatre lover, it was probably more reverse. But if you were both, like me, you just loved it. The audience shots showed a bit of indifference.
But as the night went on, NPH didn't really come with the fireworks that seem to effortlessly accompany him when he's hosted the Tonys or Emmys. He had his ups, but unfortunately I noticed more downs. His whole-show bit about his predictions being sealed under lock & key did pan out to be a funny recap moment at the end of the show, but nothing worth rewinding for. I still love NPH and I am still anticipating the next time he hosts (hoping the Tonys bring him back this year for redemption), but for this year's Oscars, the jokes weren't really flowing and the spectacle was not apparent.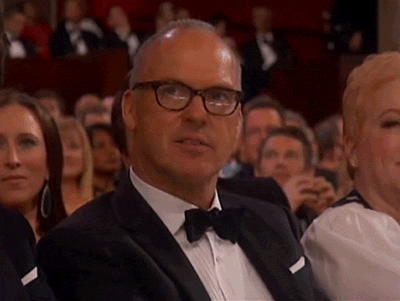 Speaking of spectacle: where was it?! Oh my gosh, the Oscars used to come with the montages, many of them. Beautiful montages of the year's films, some aligned with a theme like last year's "heroes" or maybe just one highlighting the technical aspects of the nominated films. I mean, there was still at least the "In Memoriam" montage with an emotional introduction from Meryl Streep that featured beautiful watercolor drawn images of those who passed. It was really nice, but it just made me miss the way the Oscars put together great montages. See, not only are they nice "film is still great" reminders, but also they do pass the time faster rather than awkward presenter exchanges or just more commercial breaks. I can remember the best use of time was in 2009, when the acting categories were presented by a group of past winners each acknowledging a chosen nominee. That was perfection, and lots of time may have passed, but you didn't feel it; like I felt the time of this one.

But, before I jump into the greatest final hour in Oscar history (possibly), I do want to mention a great moment that happened outside of that hour:

After winning Best Supporting Actress for Boyhood and thanking all who she wanted to thank, Patricia Arquette took the time to champion for one cause, gender equality:
"It's our time to have wage equality once and for all". 
But the best thing about this moment came in the shot of Meryl Streep and Jennifer Lopez, Arquette's biggest fans at that exact time.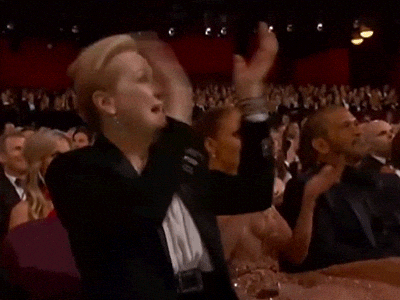 I love how Meryl looks at JLo for another "YESS".
Now, for the real moments. The moments that saved this show from just being a long-drawn, white-out of an awards show. The moments that I will remember from this year's Oscars. It all started with John Stephens and Lonnie Lynn, popularly known to the rest of the world, besides the Academy, as artists John Legend and Common. They had already won the Golden Globe Award and Critics Choice Award for their nominated song "Glory" from Selma, so they were a very strong contender for the Oscar. Still, there was uncertainty that the Academy would choose to award another hip-hop based song since the surprising win of Three Six Mafia in 2006 for "It's Hard Out Here for a Pimp" from Hustle & Flow. Thankfully and brilliantly, all doubts were erased when Legend and Common took to the stage and performed "Glory" with a full set of the notorious Edmund Pettus Bridge, visuals, chorus, and an acapella-ending that could stir a non-believer's heart into believing. Everyone was standing by the end. Everyone. I was moved through my tv on the couch, I could have only imagined how it felt to be in that room. Well actually, David Oyelowo and Chris Pine showed us exactly how it felt.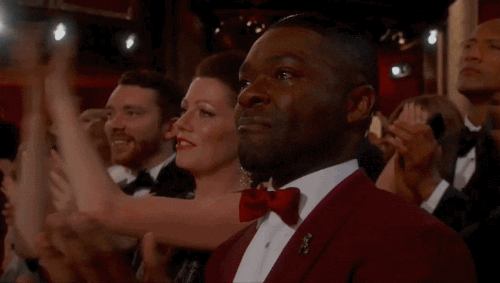 Everything seemed to be going at a JK Simmons Whiplash character-approved pace, because right after they performed, the Academy expected us to remember what happened last year as Idina Menzel appeared and then invited her name-butcher buddy John Travolta. I had yet to recover from the performance when Idina and John were making up with some nick-name calling and awkward face grabbing on Travolta's part. All I know is that they were there to present the Oscar for Best Song, and if "Glory" did not win, I was going to (excuse my language) light some sh*t on fire. But alas, there was no flame to get ready because the beautiful icing on the emotional cake was that John Legend and Common indeed won the Oscar for Best Song and received once again, another standing ovation. The moment was cemented by passionate and social aware speeches from both Legend and Common that just needed to be said at this awards show:
Common " [about the Edmund Pettus Bridge in Selma] This bridge was once a landmark of a divided nation but now is the symbol for change. The spirit of this bridge transcends race, gender, religion, sexual orientation and social status … This bridge was built on hope, welded with compassion and elevated with love for all human beings." 
John Legend "We say that Selma is now, because the struggle for justice is right now … We know that right now, the struggle for freedom and justice is real. We live in the most incarcerated country in the world. There are more black men under correctional control today then were under slavery in 1850. When people march with our song, we want to tell you: we see you, we are with you, we love you, and march on."
Just ..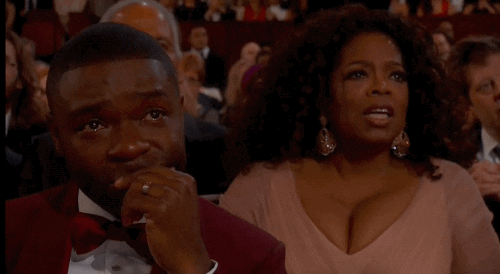 Then it didn't event stop there. The Oscars really hit us out of nowhere with the set-up pitch and hitter out the park of everyone's feelings because they decided right after this tumultuous performance would be a great time to celebrate the 50th anniversary of everyone's favorite, The Sound of Music. I couldn't even grasp what was going on for the first five minutes of the tribute. But like everyone else, I settled myself down because Lady Gaga was waiting for no one as she just slayed Sound of Music classics reminding everyone she may have had her antics, but she still has raw talent.

And right before I tweeted out that I would keel over and faint a little if Julie Andrews walked out on stage, QUEEN MARY POPPINS MARIA OF GENOVIA JULIE ANDREWS WALKED OUT ON STAGE.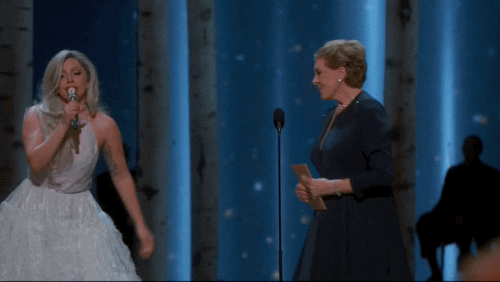 I really don't remember much after this because I blacked out during the commercials.
Oh! There was another amazing speech moment given by Graham Moore who won Best Adapted Screenplay for The Imitation Game. If you didn't see it yet, it's a moving film about the life and achievements of Alan Turing, a British mathematician and cryptanalyst who helped break the Nazi code during World War II. Turing was never recognized for this achievement before committing suicide after being prosecuted for homosexuality. After thanking Oprah who present him and enlightened by sharing Turing's story, Moore shared his own:
"I tried to commit suicide at 16 and now I'm standing here … I would like for this moment to be for that kid out there who feels like she doesn't fit in anywhere. You do. Stay weird. Stay different, and then when it's your turn and you are standing on this stage please pass the same message along"
Just another powerful speech towards the end of the night.
To conclude the show (thankfully!) Eddie Redmayne pulled, what I thought was a (awesome) upset, winning the Best Actor Oscar for his portrayal of Stephen Hawking in The Theory of Everything over Michael Keaton. He was shocked. He was happy. It was adorable.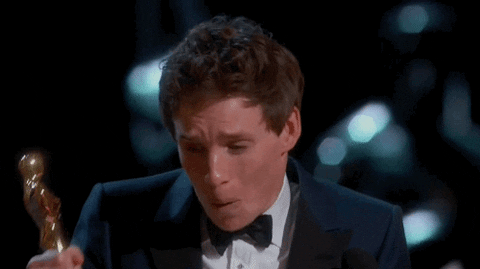 Julianne Moore won Best Actress for Still Alice. No shocker there, she's been sweeping the season, but well deserved. Especially when she proclaimed what everyone (and me) always thinks —

And Birdman won this year's Best Picture. I have to be honest, I have not seen this one, but for some reason that's the case for most winners of the Best Picture. I usually see them after. Also, my heart was still pulling for Selma to make the upset while my mind was going for The Grand Budapest Hotel, which had a great night anyways racking up four Oscars. Ultimately it was Birdman coming out on top winning both Best Director for Alejandro González Iñárritu and Best Picture along with two other wins, totaling four Oscars for the film.
Withstanding all the snubbing and strong lack of diversity in the acting/technical categories, I do have to say, the lop-siding actually resided in the production of the show but not so-much the winners. For example: the four winning actors each came from a different movie, Alejandro, a Mexican man, won two of the biggest Oscars, a duo including a hip-hop artist and R&B artist, both Black men, won for a song about the past and present state of civil rights, and women were among winners of Best Documentary and Costume Design. I mean, if you were trying to look for a bright side in this year's criticism of the show, there it is. However, my bright-side looking does not excuse the fact that in a year with films bolstering casts and actors of color, any color, it was not shown through the list of nominees. This last quarter of the awards show may have saved this year's Oscars from a lot more critical and audience disappointment, but overcompensating on presentation to hide the recognition won't always save the show. I'm already looking forward to next yea– actually no, I'm looking forward to the Tonys, then Emmys, and then it all starts again. For now, what I'm actually looking forward to is just another interesting and exciting year of films … hopefully then, carrying back to the Oscars.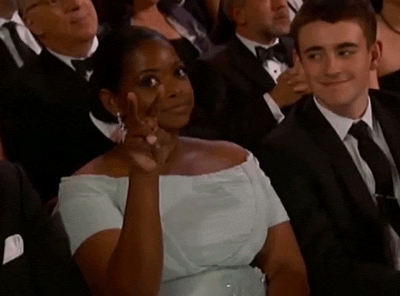 Also, bring back the montages. #Oscars

Special Mention
There were so many to choose from, but my best dressed goes to Zoe Saldana for the night. Simply put, she just had twins and she looked gooooooood!
---
For all winners, more speeches, performances, and all things Oscars: oscars.com